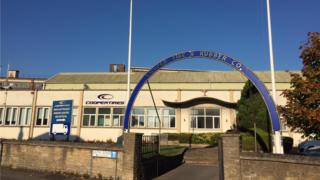 A tyre factory is planning to cut 300 jobs, its bosses have announced.
Cooper Tire and Rubber Company in Melksham, Wiltshire wants to cut the jobs over the next 10 months from a workforce of 732.
In a meeting held on Wednesday workers were given letters stating the site "was an older, smaller facility that did not offer economies of scale".
Bosses are now consulting with the trade union Unite over redundancies and jobs available at its other sites.
'Still hope'
Depending on the outcome of the consultation, the plant will scrap its light-vehicle tyre production over the next 10 months.
Apprentice Brad Wilkins said: "It's not as bad as some were making out, there's still hope for some.
"There's 300 jobs being cut – it's not a good thing, but some people have got the opportunity to work here past the 10 months they're predicting."
Tyre worker Paul Pearce added: "I'm a little bit stunned, a little bit shocked, but at the end of the day it's not closing, so there's still a future for quite a bit of people."
Worker Andy Baneton added: "It's not going to kill Melksham, but it will have a very bad effect."
General manager at Cooper Tire Europe, Jaap van Wessum, said: "It is essential for Cooper to be globally competitive in the tyre industry.
"Unfortunately, the Melksham site… is the highest cost facility in the global Cooper network."
He added that the firm was considering moving its production to Serbia, the US or China.
'Potential redundancy problem'
Union Unite said it would fully scrutinise the business case for job cuts.
Unite's regional officer Tony Hulbert said: "We'll do everything we can to support the members and fight for them.
"We feel there will be people who will volunteer to go.
"The problem we have is the amount of potential redundancies, I don't think we will find that many people who will want to take voluntary redundancy."
Melksham Town Council said it was "saddened" by the news and offered to "provide whatever support it is able" to those affected.
The site in Melksham has been home to a tyre factory since 1890 and is the town's largest employer.